Ten Emerging Technologies That'll Improve and/or Ruin Everything
From a top scientist and the creator of the hugely popular web comic Saturday Morning Breakfast Cereal, a hilariously illustrated investigation into future technologies--from how to fling a ship into deep space on the cheap to 3D organ printing.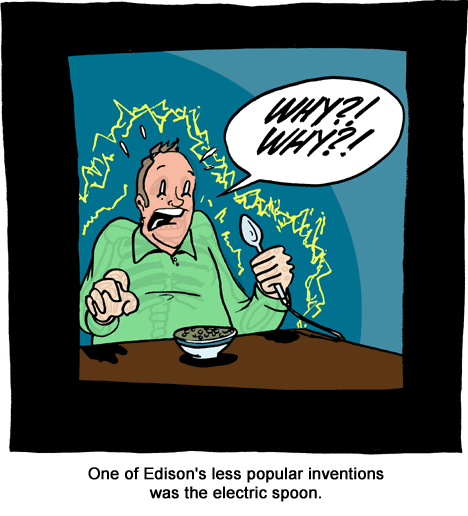 January 17, 2008

Bam! Update on time. Plus, it's got a guy getting electrocuted!
January 16, 2008

Sorry for the late update. Will be back on track this evening. BAM!
January 15, 2008

Chemistry starts up again today. Anyone have any tips?
Also, keep your eyes out for the t-shirt design in the next week or so.
ALSO, there is an
SMBC Facebook club
. I'm not huge on these profile sites, but Facebook seems a lot better than myspace. Give it a look.
January 14, 2008

MARTBOT decrees that all you TFers check out the
new level
. It's SMBC-themed! It's also on a few other servers now, so please check it out!
January 13, 2008

Crepes worked out! Best was Nutella, whipped cream, and strawberries.