so close, yet so far
Posts: 2114
Joined: Wed Aug 11, 2010 10:51 am
http://www.smbc-comics.com/?id=3309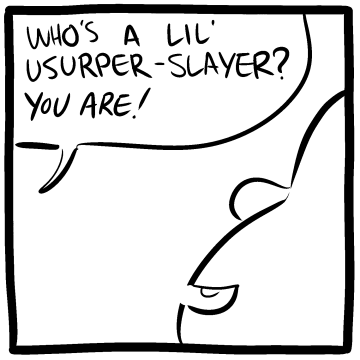 I don't get it. Why can babies born by caesarian birth kill MacBeth?
---
Posts: 75
Joined: Mon Mar 24, 2014 3:57 pm
Astrogirl wrote:I don't get it. Why can babies born by caesarian birth kill MacBeth?
Shakespeare's
Macbeth
is told by a vision that that no one born of a woman shall be able to harm him. When he boasts about this prophecy whilst fighting Macduff, Macduff declares that he was "from his mother's womb/Untimely ripp'd," that is, born by Caesarean, and not "born of a woman" in the strictest sense. Macbeth realizes too late that he misinterpreted the vision, and is dead before he can say "I've made a huge mistake."
But what is this clinic where the strip takes place, and why do they want to do fewer Caesarians?
---
so close, yet so far
Posts: 2114
Joined: Wed Aug 11, 2010 10:51 am
High rates of Caesarians are usually considered bad and clinics would strive for more natural births. Like, it would be a sign that births go wrong too often in some way.
---
(Eastern Bassoon Poplar)
Posts: 1227
Joined: Mon Apr 22, 2013 2:34 pm
Location: :noitacoL
One of my Dad's colleagues had given birth by Caesarean once before, so she did it for her second child as well. She was able to choose the date, and chose
one day
off from Darwin's birthday. When my Dad informed her, she was pretty bummed.*
*Biologists aren't weird
Continual disappointment is the spice of life.
---