[Insert Here]
Posts: 208
Joined: Sat Sep 23, 2017 9:23 pm
https://www.smbc-comics.com/comic/2011-04-15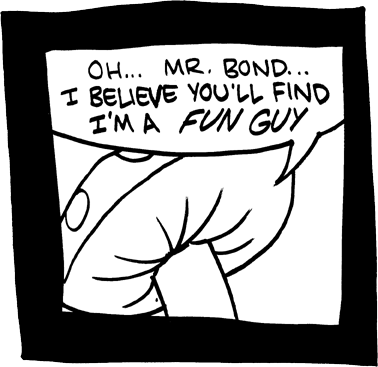 I came across this one via Random, it's brilliant!
---
[Insert Here]
Posts: 208
Joined: Sat Sep 23, 2017 9:23 pm
Massive chase scene - Car A is chasing after Car B.
Suddenly Car B crashes and is immediately wrecked. "Fuck", the guy says, as he gets out of the car and starts running, with Car A still chasing after him.
And boy, can he run! The man can sprint faster than you can imagine! As Car A chases him, he doesn't try to evade, he actually outruns the car! The car does 50, so does he. The car does 100, 120 - so does he!
But after a few minutes of full-speed chasing, suddenly the man slows down... And the car runs him over, flattening him on the road and literally driving over him! And the car just keeps going...

The passenger in the car asks the driver: "What happened?" and the driver replies:

"I guess he got tired."




A few minutes later, the two guys in the car look behind them and see the same man - now bloody and injured - actually chasing them! He's somehow managed not only to survive, but also to get up, start running after the car and actually catch up to it!

But just a few seconds after they notice him, the man starts coughing... Coughing and coughing, and coughing! The man can't stop coughing! Soon after that, he slows down, and the car loses sight of him once more.

"What was THAT about?", the passenger asked.

"What do you think?, replied the driver,


"He was exhausted."
---