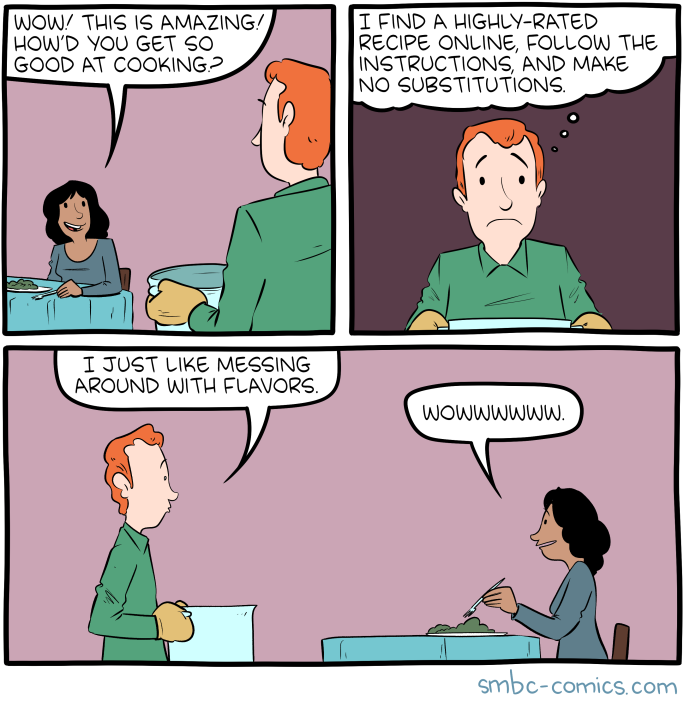 http://www.smbc-comics.com/comic/cooking
Oddly enough, that's how you learn to cook, and there's absolutely nothing to be ashamed of. It's exacty how I learned.
First, you slavishly follow the instructions, right down to the fractional teaspoon (or milligram for the Rest of the World).
Then, at some point, you start a recipe, end up halfway through and you suddenly realize, oh, crud, you're out of rutabagas but you have some turnips and you substitute.
Hmmm. . . that turned out okay.
I'm now to the point where I'll type a few ingredients into the browser search, see what comes up, skim two or three recipes, and then wing it from there.
Sometimes I'll print out a list of ingredients so I don't forget something important but usually, I don't even bother with that, since I know more or less what goes with what.
Cooking is more about learning technique than it is recipes. Once you manage to learn a few basic techniques, the rest is just variations on the theme.
A quick followup to underscore what I mean:
This literally happened a few minutes ago. I was going to make bran muffins for breakfast and to share with my partner's 93 year old mom.
I was halfway through the prep and. . . oops! The bran had become a colony of pantry moth larvae. My choice was to wait a half hour for the store to open or wing it.
Hm. What do I have around? Ah! Oatmeal, and it's just fine!
So, instead of bran muffins, Mom's getting oatmeal muffins. Not half bad, either. I think I like them better than the bran muffins.