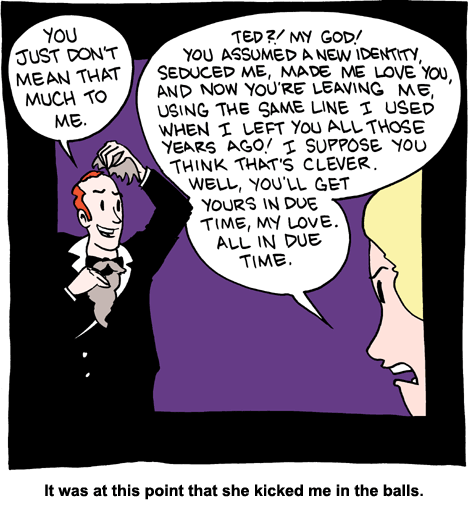 June 5, 2009

Oh, man. Hopefully tomorrow I will finally get back to updating at a normal time. This late night schedule is killing me. But, one of the new TOP SECRET PROJECTS is moving forward on schedule. I'll have the big announcement soonish. Woop!
June 4, 2009

It's 1:30 AM and a lightning storm is coming in. I better update before I get zapped...
June 3, 2009

By GOD I shall update! Come on, now. You didn't really think I could go more than a few days without a dirty joke, did you?

Also, con-goers, I will be attending San Diego Comic-Con and APE (San Francisco) this year. Come see me. Otherwise I'll be lonely.
June 2, 2009

Contest in the forum!
Winner gets a free print of an SMBC comic. Please make sure to read the rules. Most importantly, since this is an insult war, we need you to make a few posts on the board before you're allowed in. Check it!
PS: Big thanks to Edminster and Mountainmage for making it happen.
June 1, 2009

Sooooo tiiiiiired...