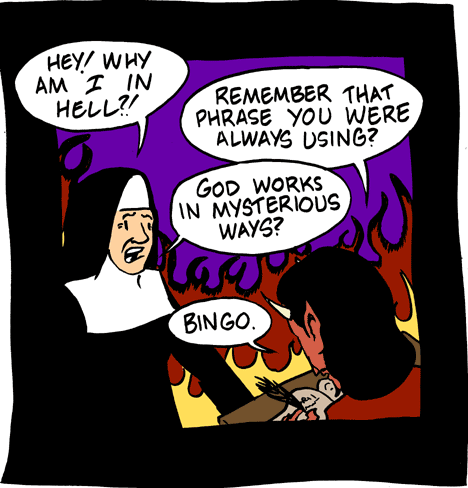 December 10, 2006

Hey folks,
I didn't really like the quality of either yesterday's comic, or the one for today. So, today is a TRIPLE UPDATE. Yesterday's comic is different, today's is different, and tomorrow's (VOTE) is brand new.
ALSO, Dani is taking more commissions. Go
check it out
.
December 9, 2006

December 8, 2006

The Latest Idiocy from Weiner Country:
Marty (webmaestro for smbc and
Aristoi
): and i still cant get youtube for some reason
Marty: YOU'LL HAVE TO HANDLE IT
Marty: OH YEAH BITCH! NMETHODS PRINTING TO STRINGBUFFER
Marty: oh shit.. error
WizToast: yeah...
WizToast: uh huh
WizToast: they need to make people like you pass a turing test
Marty: my screwdriver fell in the toilet. nosferatu!
Also,
BAM! Episode 666.
December 7, 2006

LATE UPDATE: Sorry guys, but tonight's update won't be up until tomorrow. I'm a little sick, I think, and I'm having trouble getting the writing to where I'm comfortable with it. I'd rather do a good comic a little late than a bad comic on time. Don't worry, I'll get right back on schedule.
So you all in the morning.
-Zach
_____________________________________
Hey folks,
Sorry to anyone whose email I haven't responded to in the past few days. I've been very busy, particularly with working on
Aristoi
(GO POST COOL YOUTUBE VIDEOS NOW). Please bear with me - I promise to write back.
Also!
R Stevens
is going to be in papers starting January! Go
here
to see what YOU can do to help.
thanks!
Zach
December 6, 2006