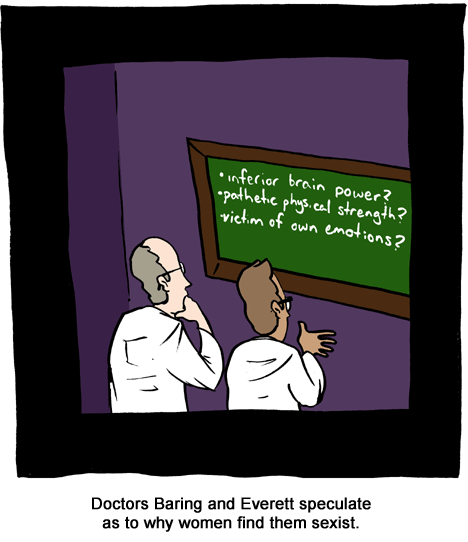 January 25, 2008

UPDATE
Some crazy/wonderful people are paying far too much for the current skyscraper ads. Please do me a favor and check them out. It's just a click of a mouse, and really helps support SMBC for the future.
* * *
Neat! Signed up a bunch of new people for the forum.
A few people noted that a comic like SMBC doesn't really necessitate a
forum
, but I'm not entirely sure I agree. Bearing in mind that I'm biased from a business standpoint (forumgoers = loyal readers), I do believe that SMBC has the potential for a strong community. SMBC markets to an audience that is, I hope, funny, intelligent, and open to a broad range of humor.
Additionally, SMBC comics do deal with real topics now and again. I've had a number of strips on religion, evolution, relationships, parents, etc. Of course, many are just ridiculous jokes, but I'd like to think at least a couple are worthy of a little chatter.
I could also cite a number of comics that have healthy forums despite having comics that don't necessitate a lot of discussion. In fact,
explosm.net
is probably the best example of this.
In any case, I'm definitely happy just having the comment board, but I sure wouldn't mind having a few more voices in the forum. Have a life concern? A controversial view? A crappy joke? Consider checking it out.
* * *
In other news, I'm running ads on the following sites currently:
Explosm.net
Starslip.com
Somethingpositive.net
Shortpacked.com
Also, starting Tuesday, I'll be running an add at
Misfile.com
.
These are all good strips worth checking out.
So, first off, I wanted to say hi to all the new readers. I hope you enjoy the strip.
Second, if you're looking to buy an ad with SMBC, right now you'll probably get a pretty ridiculously good CPM. Just sayin'.
Thank you to everyone sending kind words and/or signing up for the forum.
XOXOXOX,
Zach
January 24, 2008

Anyone have any thoughts on how to make the forum more active? SMBC has about 50,000 readers every day, but the forum is basically dead.
January 23, 2008

UPDATE
: I'm running ads at
Explosm
(NSFW) and
Starslip Crisis
today. If you're not familiar with them, they're both good comics, though very different from each other. If you're someone looking to buy ads with SMBC, traffic will be much higher than average for the next week or so. So, if you've been on the fence, now's the time.
Sorry for the racial slurs some moron posted on the comment board. It took me a little while to figure out how to delete it. These things will be taken care of more quickly in the future.
Meanwhile! I'll be learning a little computer programming (Java) for the first time this semester. I hope SMBC's nerds in residence will be willing to help when I have trouble.
January 22, 2008

Heyo, votey comics will return by this afternoon. LIKE YOUR MOM.
January 21, 2008

TOTALLY made sushi yesterday.