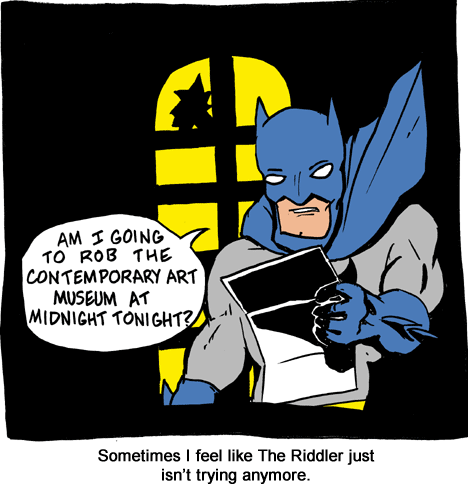 May 3, 2006

Thanks again to everyone who helped out. The last two days I've had well over 10,000 hits a day. Tuesday I got over 200,000 page views, which is just really staggering. So, thank you all.

Please go check out my new sponsors. Between the two of them, they've paid for my lunch for about a month.
May 2, 2006

AND SO BEGINS THE SUMMER OF ZACH.

I'm not a sentimental person, but the outpouring of love has just been fantastic.

Thanks to Reva for getting me on the 'pedia.

Thanks to Liz and Jeph for the linky love. Sambro too.

And thanks to all of you who went out there and told some friends, or posted me on a blog, or did whatever you could do to help me out. I'm in a real uphill battle here, and it feels damn good to know I have some good people backing me up (or is it yanking me forward?)
May 1, 2006

Bonus Chason comic IF YOU VOTE.

If you wanna hear me blah blah blah for about 8 pathetic minutes, feel free to listen in.

For those who don't feel like downloading anything, the BIG NEWS is that I've quit my day job. I'm going to stretch as long as I can on the money I have in order to work on my comics full time, and I need your help. I'm not asking for donations or anything - just for anyone who enjoys the comic to just tell one other person.

The best way to generate webcomic traffic is by word of mouth. SMBC's been growing pretty quickly, but the more people I can get in here, the longer I can stretch my modest savings.

EXCELSIOR!
April 30, 2006

SMBC PODCAST to debut tomorrow, containing wacky news about the life of ZACH.
April 29, 2006