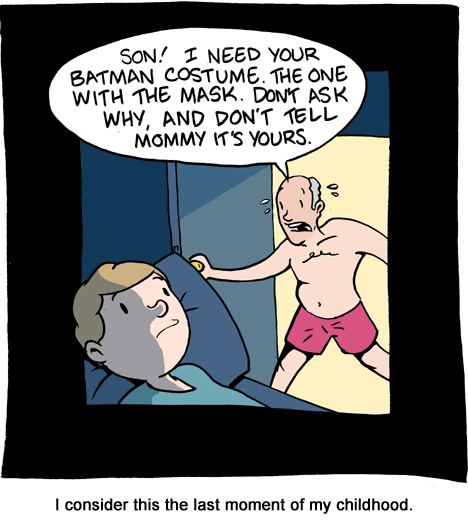 March 8, 2008

Early update! Going camping - wish me luck!
March 7, 2008

Scorpions NEVER go in the right eye. Be safe out there, folks.
March 6, 2008

Thanks for all the kind words on my birthday. I'm looking forward to another great year from SMBC. As you guys may know, I've never gotten a huge amount of backing from any other site, so almost all SMBC readers got here by word of mouth. And yet, every year since I started doing this in earnest, the readership has more than doubled. You guys rock!

Also, my homie Phil is doing a new strip along with Mr. T and the incarnate webcomic factory.
March 5, 2008

Happy birthday me! Wanna give me a gift? Tell a friend about SMBC!

Also, big thanks to The Dark Lord for his help with my pathetic Java programming.
March 4, 2008

No voteys for a couple day, I'm afraid. I'm getting squeezed between Java and physics.