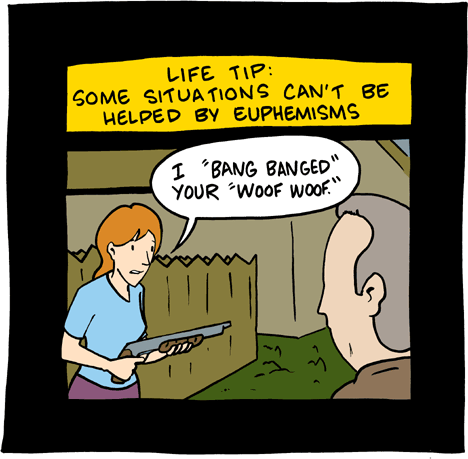 March 31, 2008

SMBC STORE NOW TAKING PRE-ORDERS!
No, this is not an April fools joke.
We have three different designs based on some favorite SMBC strips. I'm gonna try for 100 purchases of each design before buying. If this goes well, I'll introduce more designs every month or two.
And, on a more personal note, I want to thank all you guys for making this happen. A few of the more diehard among you may remember the last time I sold merch, in Summer 2001. I had maybe 1,000 regular readers back then (compared to more than 50,000 now), and I managed to sell about 3 shirts. Since then, I've been wary of coming out with merch. SMBC is most likely the largest comic never to have a real store.
The last year has been very fruitful for me as an artist. I've made enough money off this site to live my dream of being a full-time cartoonist, and to buy the luxury of a trip back to college for further education. None of this would be possible without each one of you reading, sharing, and laughing along with me for the past few years.
With the launch of the new store, I'm hoping to take things to the next level, and really establish SMBC as a brand name. That way, five years from now, all of you can say you liked it BEFORE it was cool.
Thanks everyone,
Zach
March 30, 2008

Ka-bam!

Keep your eyes and wallets peeled for the forthcoming store launch.
March 29, 2008

Hey kids, don't forget to try out the
SMBC facebook ap
.
I'm listed under "fans," so if you want to facebook me, that's the place to look.
March 28, 2008

I just thought everyone would like to know that yours truly is now officially the Champion of the Universe at 1983 Japanese arcade version Mario Bros.

Marty is, no doubt, crying himself to sleep at this very moment. If anyone feels the need to offer backhanded words of consolation, this is the place.

Topics I suggest mentioning:
-The fact that Marty always loses
-The fact that Marty had the lead and 4 more lives than me partway through the final battle
-The fact that Marty (true story) drinks Lady Grey tea

---

MartBot response:
First of all, Zach rarely wins Mario Bros gainst me. There was a LOT of luck last night, including Zach having to make up 7000 points when.. oh.. what's this? a coin round?! And then it happened again!? BULLSHIT!

Also, I'd like to point out these were simply practice rounds. I may have said "Champion of the Universe," but I distinctly meant "Practice."

---

Zach response:
It's called timing. It's associated with individuals of high IQ. Maybe you should ask your wife about it.
March 27, 2008

All right, fine. Back to insulting Straub. How about this: Most pathetic insults to Kris Straub.

I'll start:

His hair could be darker.
He has pretty great shoes, but, I mean, big deal.
Your MOM.