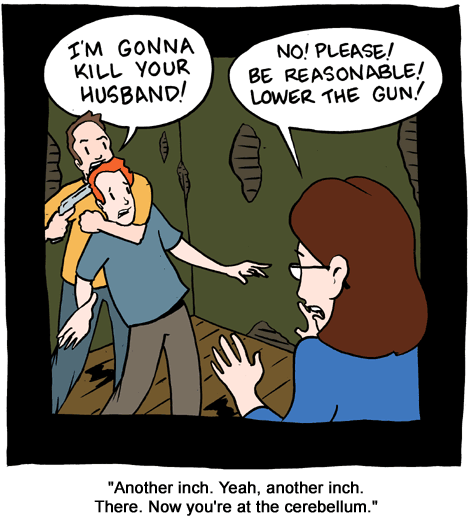 October 9, 2008

Dammit. I got a very nice email from a reader telling me he didn't like when I did late updates because he liked to start mornings with SMBC. So, fine. I'll update on time. Jerks.
Oh! Also, I forgot to link to a
caption contest
a friend of mine is doing. The panel is by me, and the prize is some books by
Brad Guigar
. I'm looking to revamp the forums in the near future, and I may do something like this on our forums, if you guys are into that sorta thang.
Today's webcomic linky is Ryan Sias'
Silent Kimbly
. Ryan helped me with some advice ages ago when I published a strip in Mad Magazine. If you're a fan of atrocious puns combined with gorgeous artwork, check it out.
October 8, 2008

Take that, chemists!
Today's webcomics link is David Willis'
Shortpacked!
Anyone who is nostalgic for the days when happiness came in a blister pack with accessories should be reading this strip. It's funny, and has transformers. What the hell else do you need, asshole?
October 7, 2008

Today's webcomic homey: Kris Straub. He creates several hundred comics a week, among them
Starslip Crisis
, a sci fi humor strip,
Chainsawsuit
, a daily irreverent gag strip, and
F Chords
, a humor strip about MUSIC.
For SMBC readers, Chainsawsuit's probably the easiest fit, but it's all quality stuff. Also, Kris has an excellent beard.
October 6, 2008

I know I owe lots of people emails! Will answer soon!
October 5, 2008

Bam. Take that, MARTY.
Today's webcomic link is the gorgeous Paul Southworth's
Ugly Hill
.
Has everyone registered to vote (who's not a dirty foreigner)?