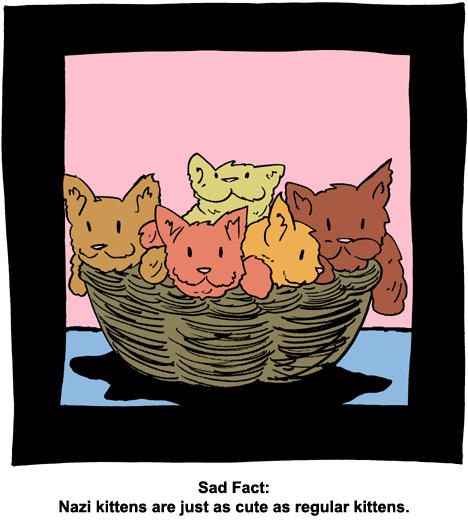 August 4, 2009

With apologies to decent people...


August 3, 2009

UPDATE: NEW SKETCH IS LIVE AT
SMBC THEATER
. Go check it. And, bonus points if you
subscribe to our youtube account.
Bonus points not redeemable anywhere but at a convention in person. And even there, they're basically worthless.
KAPOW! Today's link goes to the awesome Bill Barnes of
Unshelved
, who was nice enough to give me some shrewd advice on how to work ad stuff for SMBC Theater. GO CHECK OUT HIS COMIC (especially if you're a library/book nerd).
August 2, 2009

BAM! I promise no more graph jokes for a while!
Today's thankye goes to the lovely
Phil Plait
, of Bad Astronomy. He is a scientist who can WRITE. Crazy! And he knows math! And (best of all), he totally reads SMBC and gave me an autographed copy of
his book!
I have to say, one of the great joys of SDCC was getting to meet people I respect as intellectuals. I like to think I'm putting out a comic that's (occasionally) smart(ish), and so I find accolades from people of his caliber very gratifying. Plus, like, FREE BOOK.
August 1, 2009

Wow, this seemed a lot less complex in my head. I swear it's clever if you decipher it.
Also, today's thanks goes to chronically sober booth neighbor
Frank Gibson
who gave me a FREE COMIC. His work is freakin' gorgeous. Go check it out.
July 31, 2009

I must interrupt my recent spate of thanks to link the latest comic by my old friend and INNER CIRCLE MEMBER, Katie Sekelsky. It is called
Magpie Luck
, and you should read it. NOW.