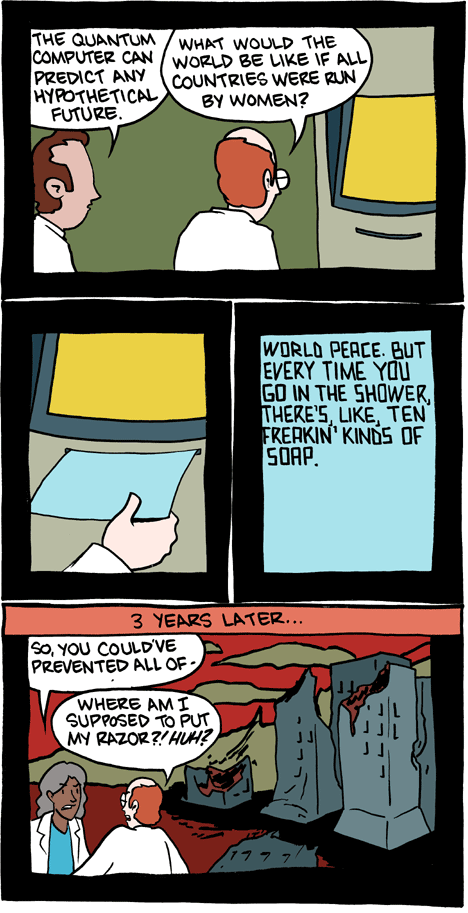 August 15, 2009

Bam! Two sexist computer jokes in three days. I think I'm hitting my stride here.

Chason and I are starting a geek blog where we post about our science and math self-educating soon. Stay tuned, ultra-geeks.
August 14, 2009

Today's comic featuring Marty.
That reminds me, for the ultra-nerdy among you who've enjoyed Marty's iPhone magic tricks will be happy to know THERE'S A BRAND NEW
MARTY MAGIC TRICK
. It allows you to SPOOKTACULARLY use your long-dead ancestors to do cheap parlor tricks!
Don't believe me? THEN GAZE IN WONDER.
August 13, 2009

BOOYA! I am back on schedule, and even already have a joke written for tomorrow.
I had the super-keen opportunity to meet
Rob
(along with his sister and her fiancee) for dinner in San Francisco last night. Kelly and I subsequently got lost, but happily ended up on the Golden Gate Bridge, which Kelly had never seen
Oh, and in case anyone is interested, here's what I've been reading lately:
July 11 - Anna Karenina
Aug 3 - Team of Rivals
Aug 5 - The Screwtape Leters
Aug 6 - Candide
Aug 10 - A Confederacy of Dunces
Current - The River of Doubt
Any recommendations?
August 12, 2009

Blagh! Finally should be back on normal update times as of tomorrow.
August 11, 2009

Wow, that's the nerdiest thing I've ever drawn. And, in honor of that, I'll finally link to one of the awesomest people I met at Comicon -
physicist, Sean Carroll.
I gotta write a physicsy sketch one of these days and sneak him in...
Speaking of which, I've decided to make a tradition of posting the new video here every Tuesday. Once again, you are allowed to watch this video as long as you are NOT MY MOM.