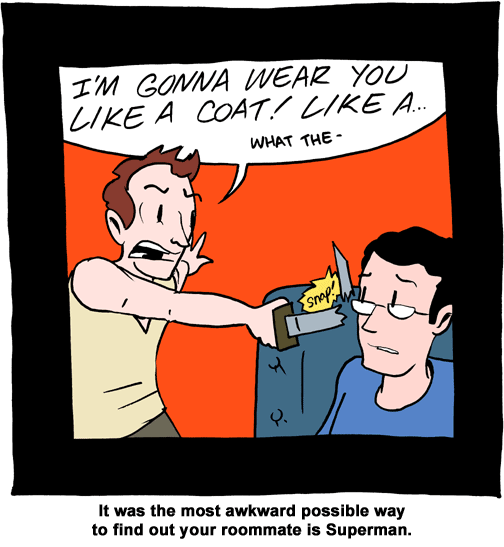 October 30, 2009

Enjoy our new Halloween SPOOKTACULAR! (featuring Rob and Matt from
Explosm.net
)
October 29, 2009

Kapow! Panels panels panels!
The Halloween special is coming along well, and is GEEKTASTIC.
Also, if you wanna follow me on twitter, it's
HERE
. And
THIS
is my facebook. We can be best friends.
October 28, 2009

BAM. How's everyone doing? Everyone seems to like the new vid, so I'M doing pretty damn well. Don't forget, this week's video will be up a little early, since it's a SPOOOOOKTACULAR HALLOWEEN SPECIALLLLL.

I haven't dressed up for Halloween in years, but 2009 may be different...

October 27, 2009

Kapow! Hope this one makes sense, because I ain't slept a lot lately...

Also...

October 26, 2009

It's 3:40 AM, but by jeepers I have a comic update.
Also,
a brand new video
! This one took a long time to shoot, but was well worth it. It has all three of our STARS, James Ashby, Jon Brence, and J.P. Nickel. Plus, we have a new actress - Alex Oliver. Enjoy!
And now to sleep for ten seconds...