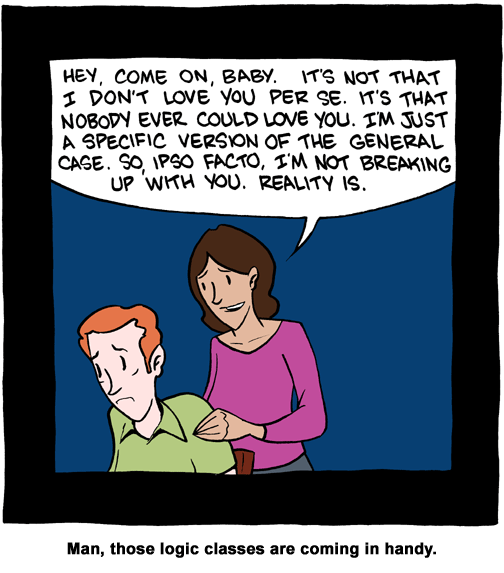 February 14, 2010

Happy Valentine's, geeks! Enjoy this comic about a heartless breakup.
PS: Don't forget to check out
SMBC Theater
at 9pm tomorrow night for a brand new sketch!
February 13, 2010

Kapow! I like to put up holiday comics early so people can share with loved ones. Enjoy!
February 12, 2010

Kelly's hoooome for the weekend!

Don't have much else to say, so here's the last few books I've read (does not include math or science stuff):

Jan 26-Feb3: The Ciderhouse Rules
Feb3-Feb6: The Good Earth
Feb6-Feb9: A Journal of the Plague Year
Feb9-11: Green Hills of Africa
Feb11-??: Noble Obsession

The first three were excellent, especially the first. Green Hills of Africa is the first Hemingway I didn't like. "Noble Obsession" is an enjoyable non-fic about Charles Goodyear, which I'm only about halfway through right now.


February 11, 2010

BAM!
One of our
first videos ever
is up at Funny or Die. Whee!
Progress continues on my top secret project. I'm officially something like 1/20th to completion!
February 10, 2010

I wrote a simple little game.
Check it out
, and if you play, gimme notes!