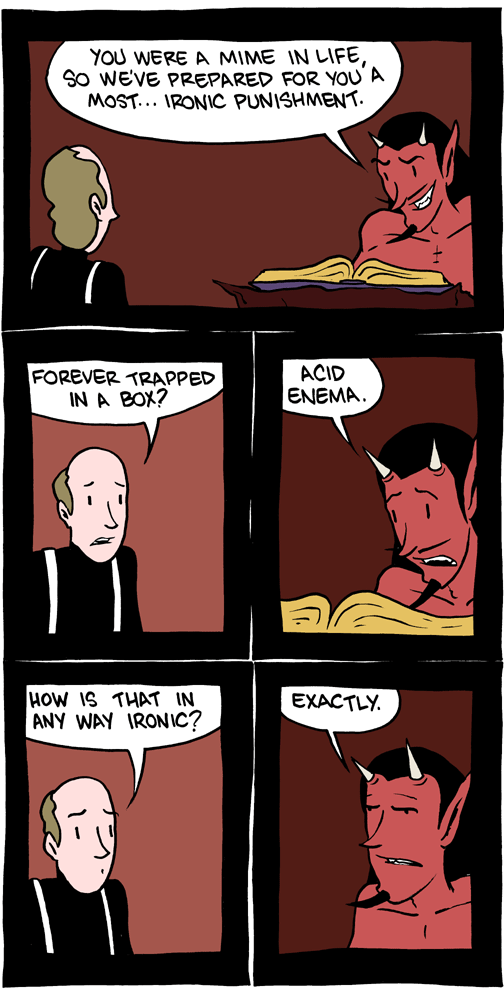 March 17, 2010

UPDATE: Forgot to mention, we have another favorite vid up at Funny or Die. It involves James in a spelunker beard.

Whee! Another update!
If everything goes to plan, I should be completely back on track tomorrow.
Oh, and a while back, I promised Edminster I'd mention that SMBC has a forum.
Check it out!
March 16, 2010

BAM! A couple more updates and I'm back on schedule. There'll be at least one more today.
March 15, 2010

By jeepers, tomorrow I will upload two comics.
Oh, also, our kid-friendly comic strip,
Snowflakes
, is back to the main storyline, now that our engagement with the AHA is done. Woop!
March 14, 2010

YO! Just because yesterday's update was at a weird time, I'm reposting the new vid. Enjoy! (Notes on the late updates below...)



This week, we realized we needed to get an emergency video shoot in, since we're putting together a crazy special effects thing to show at this year's SDCC. Those of you who subscribe to the newsletter got a tiny preview this week.

Unfortunately, to make that work, I had to drive to LA and back on Friday (to grab James and equipment), then do the shoot Saturday. Between those two days I got about 5 hours sleep, a decent little sunburn, and had my body flung about for some fight scenes (which I'm told will be super awesome). Both nights I started to draw and realized I wasn't very confident in the jokes I was doing. So, rather than update work I didn't like, I opted to delay a little.

This week, I'll make up for the missed updates, and BY JEEPERS I shall achieve a buffer!

<3, Zach
March 13, 2010