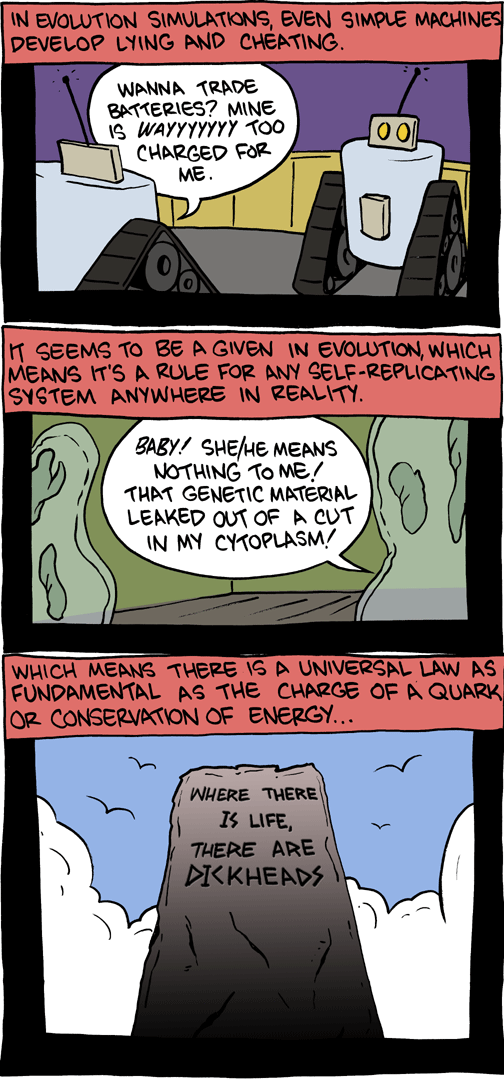 July 31, 2010

FACT.

I've got three guest comics going up in August. One of them is particularly epic. STAY TUNED!
July 30, 2010

Phil Plait,
the Bad Astronomer
, is gonna have a TV show on Discovery. A science TV show! With
actual
science! Check it out!
July 29, 2010

Important!
July 28, 2010

Enjoy your nudity!
Also, speaking of lady geeks (sheeks?), I forgot to mention that the most recent
SMBC Theater
features a cameo by
Katie
's old asthma inhalers.
July 27, 2010

Whee! It's hard to believe it's been a year of SMBC Theater, but we finally have a
freakin DVD
. For this first one, if you buy a hard copy, we'll autograph it and include some stickers.
I had an amazing time at SDCC this year. I could write a lot about it, but I think
this blog entry pretty much sums it up
. One of the biggest pleasures of my cartooning "career" in the last few years has been meeting awesome people, and Phil Plait is one of my favorites. He gave me a freakin'
meteorite
! From
space
!