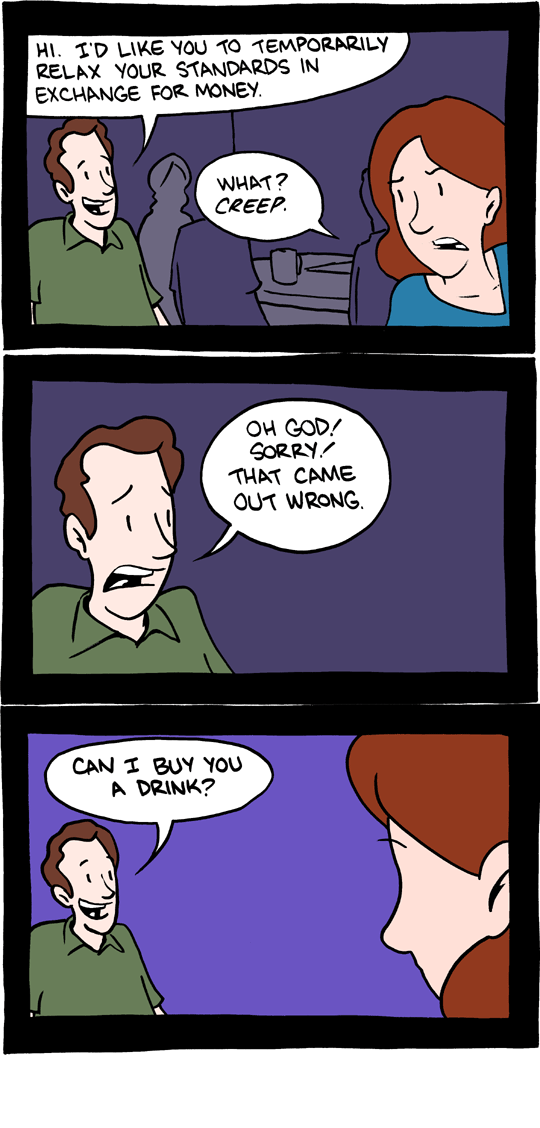 2011-03-30
Kapow! Oh man, I already have the cover for the second SMBC book (coming this Winter!). It looks pretty gorgeous, thanks to the awesome Jim Zubkavich. If you're looking for a new comic book, his is
pretty damn awesome
.
2011-03-29
Slightly scared of putting myself in a comic, but hopefully it was worth it for the last panel.

Also, I've gotten a few complaints about noisy ads. If you hear one, please do the following: get a screencap, the source code, and the URL to which it links. Send me this info, and I'll fix it. Sorry about the problem - all my ad companies are told not to do this, but now and then one manages to slip through the cracks.
2011-03-28
POW! Hey-- if you haven't already, make sure to grab tickets for the
SMBC Book Launch event
in NYC on May 8th. If you can make it, we'll be BFFs. And, the money made goes to a good cause. Should be a very good time.
<3, Zach
2011-03-27
New video dayyy!
2011-03-26
Kapow! Since I haven't reminded everyone in a while, don't forget you can navigate the comics using z, x, and c. Also, there's a SECRET CODE.