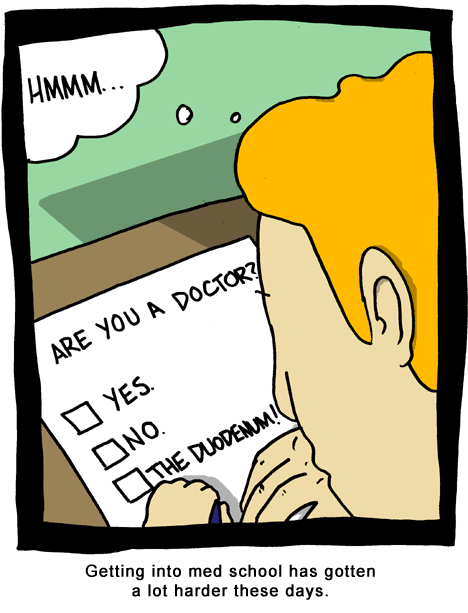 September 27, 2005

I heartily recommend Obscured by Species. Jeff's latest strip had me laughing out loud.
September 26, 2005

Happy Birthday Marty!

Sorry about no new CHASON! episode this weekend. But, between the show and my work for the weekend, I just didn't have any time. I really appreciate you guys voting for me. Every vote nudges me an inch closer to my fantasy of being able to do this for a living. For that, I thank you.

Speaking of the show, it went AMAZINGLY. Scott was a little late, but thankfully Phil came on to hang out for a while until Mr. PvP himself showed up.

We had a great time with Scott. I think a lot of people have this image of him as a sort of aloof, angry, webcomic god, but he's actually a really cool regular guy. You should go listen to our interview. It might just change your perception.

I hope today's comic is enjoyable. I'm so tired I'm not sure if anything is funny any more, but I do like the way the mom's expression came out. It's really hard to make someone roll their eyes when you draw little dots instead of eye outlines. I think I got what I wanted out of the drawing, so hopefully the writing is carrying its weight too.

I'd like to extend and invitation to anyone else with a webcomic to do a link exchange. If you're interested, just email me your site. As long as the content isn't too terribly offensive, I'd be happy to post my opinion about it in a straight up link exchange. One of these days I really have to make a links page.

I also split the forum recently. So, if you wanna post ridiculous off topic crap, there is now a place for you.

If anyone wants to buy some ad space, I'm the best deal in town. You can get a week of adspace for only 7 dollars. Last week SMBC got over 99,000 page views. That means 99,000 views of your ad for only 7 dollars!!!
September 25, 2005

September 24, 2005

September 23, 2005