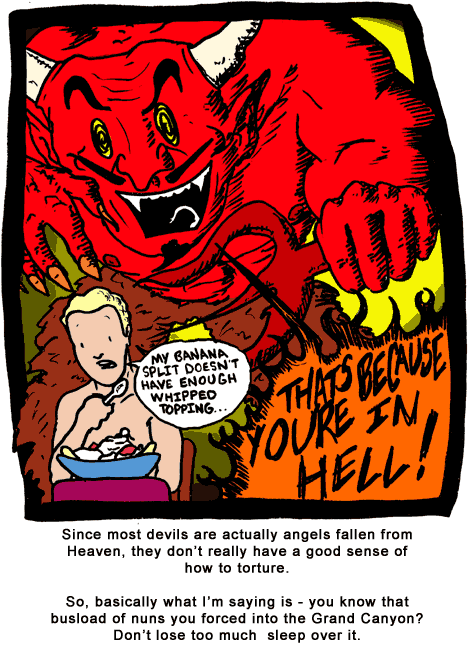 October 2, 2005

WOOP!

It's official! SMBC is now one of the Gewd Guys!

I've also recently been introduced to the sadly cancelled TV show "Firefly" thanks to Dani. It's the best cowboys in space show since Bravestarr. If you can get your hands on a DVD I highly recommend it.

I'm trying out a slightly new style today. You'll notice I didn't do any digital shading. Doing the digital shading always felt a little contrary to SMBC style, so I'm hoping you'll dig my new inkier shading. At the very least, doing things this way should improve my confidence and skill with a pen.

Hope you like it!
October 1, 2005

September 30, 2005

September 29, 2005

September 28, 2005

Hey, sorry about the crappy art tonight, but I was up a little late talking to a very very good friend of mine.

Speaking of friends, go read Bored and Evil.

There will be some big stuff happening for SMBC soon, about which I'm very excited. For now, it's hush hush. But soon, all shall be revealed.

I still like today's comic, but I think I could probably have squeezed a little more funny out of it with better expressions on the characters. With this single panel stuff, the whole thing can hinge on an eyebrow.

Also, I hpoe you guys go check out the forum. There's not much there yet, but we're starting to see a little activity.

I also want to reiterate my promise to link back anyone who links to me. Just email me your site and I'll gladly check it out.

-Zach