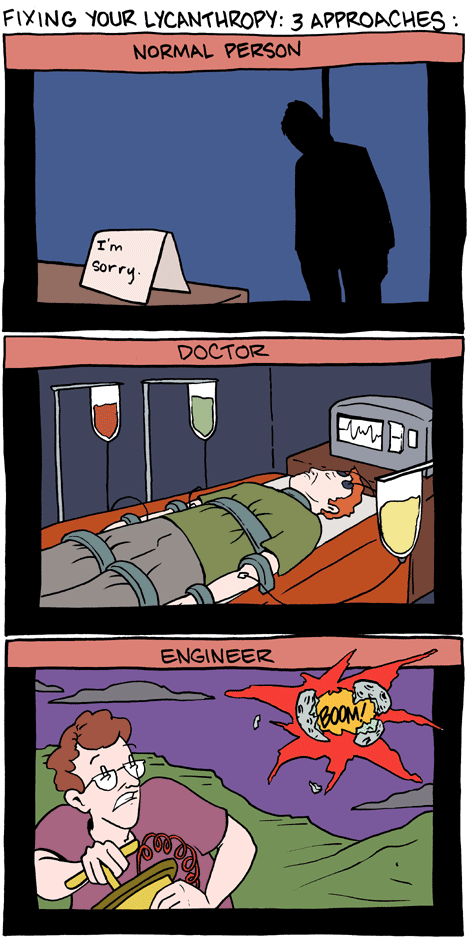 July 10, 2009

WOW, grammar nerds. Apparently I was wrong about being wrong. I believe that makes me right. You wanna weigh in here, logic nerds?
It was a good day for nerdery in general today. I killed integration factors and introductory quantum light theory. I'm also trying to kill Anna Karenina, but MAN this book is slow. He has sections on what a guy's DOG is thinking about the situation. There is such a thing as too much world detail!
Oh, and how am I such a douche that I haven't linked to the awesome
NEDROID
yet? It's by Anthony Clark, and is super-keen.
July 9, 2009

Man, it was definitely ONE OF THOSE DAYS. And, oddly, this seems to have been true of almost everyone I spoke to today, including the ever-cheery
Kelly
. Hopefully things will calm down a bit after Comic-Con.
Looks like we've passed the middle of summer. How are you maximizing your time off?
July 8, 2009

San Diego Comic-Con
attendees!
First, don't forget, I will be attending the con. Come say hi!
Second, if you're over 21, and a fan of AWESOME, come
buy tickets to the show
I'll be doing with
Explosm
. It's a big comedy and music good time, and will be the debut of my new sketch comedy group,
SMBC THEATER
. Seriously, it's gonna be a good time. Plus, when I get famous (probably for homicide) you can say you saw the first ever show of SMBC Theater.
July 7, 2009

July 6, 2009

Blaaaaaaaaaaaaaaaaaaaghhhhhh... (but got two sketches done!)