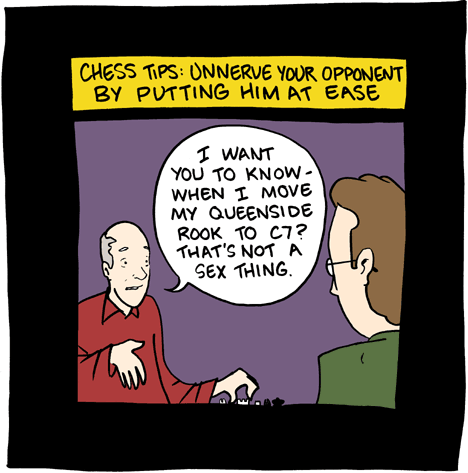 March 17, 2008

Hey folks. Just wanted to let you know voteys will be a bit behind for the next week, most likely. But, the whole week following I have off, so I should catch up and then some.
March 16, 2008

Programming joke! Now, where are all my new readers?
March 15, 2008

Hey guys. See the banner at the bottom of the page for buying SMBC desktop art? That's gonna disappear soon when the store goes up. So, if you want some cool SMBC artwork for a couple bucks, now's the time.
March 13, 2008

Hey guys. Just to let you know, there was a SECRET double update yesterday. I did a comic with a punchline involving AIDS recently, but decided to take it down. In addition to being perhaps a bit over the line even for me, it's probably not ideal for publishing reasons. I'm still wrestling with this choice, but for now it seems to be the right one.
And the bonus for you guys is an extra comic if you click back to that day.
I'm working on a votey comic right at this moment, so if you check back in an hour or so, it should be up.
Also, some crazy people are paying way too much for the current PW ads. So please make them feel like it was worth it by giving a click.
thanks!
Zach
BAHFest London 2016
(Evolution Theme)
BAHFest London 2016
(Big Science Theme)