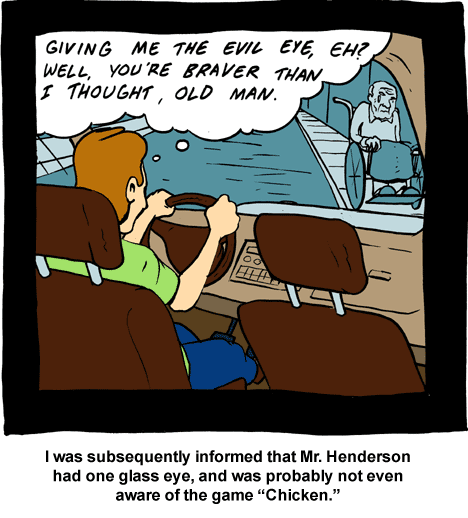 May 30, 2006

May 29, 2006

May 28, 2006

UPDATE: HOMIES. SORRY FOR THE LACK OF UPDATE. THE COMIC IS ALL DRAWN AND WHATNOT, BUT I'M HAVING DATABASE ISSUES. UPDATE SOON.

Yeah fine. I have a journal comic now. So what?

I've been reading Chaucer today.

Thus swived was the carpenteres wif
For al his keeping and his jalousye,
And Absolon hath kist hir nether ye,
And Nicholas is scaled in the toute:
This tale is doon, and God save al the route!

The great thing about reading Chaucer is that you get to say things like "I've been reading Chaucer today." (see above)
May 27, 2006

Giant space battle at Starslip Crisis!

Also, a lot of older strips have been replaced with full color fancified versions. I've already gotten a few complaints about switching from the old "CLASSIC" versions, however I'm gearing up to try to get into print. To that end, I'm trying to get a little more consistency and professionalism in the archive.

That said, if anyone feels they really really need a copy of one of the older strips, shoot me at zach_weiner at yahoo dot com and we'll figger something out.

Also, screw anyone who has "friends" in town with whom to go see X3. I don't NEED friends. I have a bag of Crunch bars and an undending supply of God's Nectar.
May 26, 2006