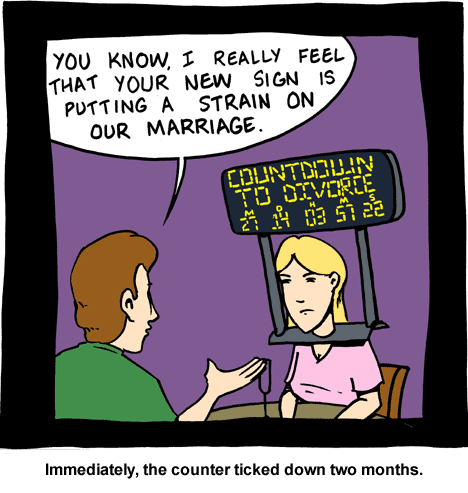 July 9, 2006

Heyo!

I'm doing some traveling for the next month or so. So, it's possible some of the non-SMBC projects may miss some updates. However, SMBC itself should stay on track...

New Chason! strips and Zach Your Own Adventure this evening.

love,
zach
July 8, 2006

So, peeps.

I'm considering a switch from the Zach Your Own Adventure system to something else.

I was thinking of starting a comic book (old fashioned 22 page style) written and probably illustrated by me. Although it would NOT be necessarily directly SMBC-related, it would exist in the same vein of abstract humor. This'd be sold for something like 5-10 dollars a piece depending on how cheaply they could be printed, and there would probably be a new one every 2 months or so. It'd be a lot of extra work, so I'm still sort of rolling it around in my head, but please let me know what you think.

I know Zach Your Own Adventure has gone a lot better than I'd expected, but I'd still rather be selling REAL LIVE stuff in return for REAL LIVE dollars.
July 7, 2006

YOU CAN'T STOP THE SIGNAL, ZACH
July 6, 2006

July 5, 2006