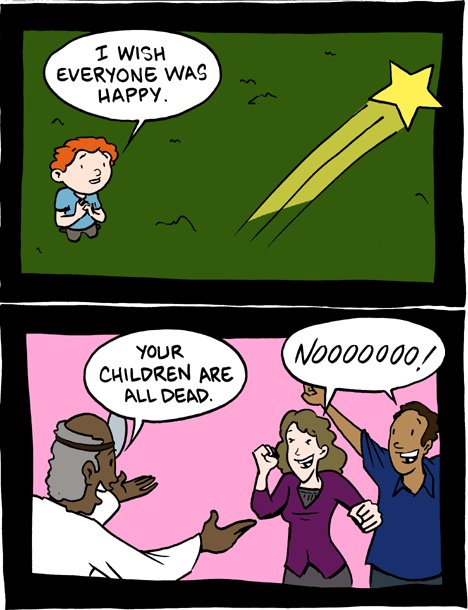 August 17, 2008

Marty and I are looking for a master flash developer for a TOP SECRET PROJECT. Anyone interested? (incidentally, the project is NOT SMBC related)

Color votey!

August 16, 2008

Hey, I've gotten a complaint from a Vista user about the site freaking out Norton. Anyone else getting this?

Also, the response from MatLab masters has been overwhelming! Thanks to everyone who helped or offered to. The bug I was having yesterday has been eliminated, but no doubt I will fail many more times in the future.

August 15, 2008

Urgh...

Sorry for the late update. I've been doing battle with a MatLab program for a few days, and I can't get a fairly simple (ish) nested for-end loop to behave.

Any experts in MatLab can feel free to IM me at "WizToast."

PS: Today's comic features Ma and Pa Weiner!

August 14, 2008

Captain Excelsior!
Now with more horrifyingness!
Also, check out the gorgeous new comic,
Ellie Connelly
, by Indigo Kelleigh.
Seriously, don't be a jerk - read it. NOW.
August 13, 2008