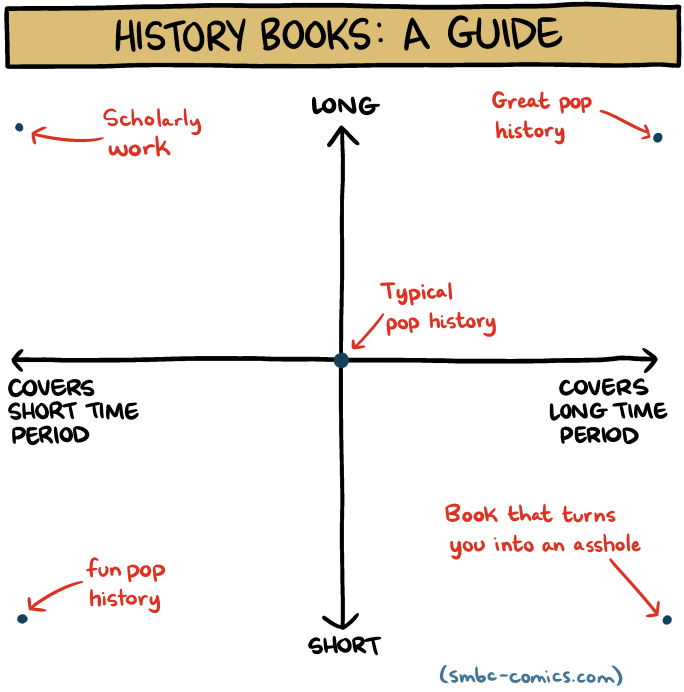 June Book Reviews
Well, looks like our mini book review went well, so I'm going to try rolling out my whole June reading list. Thanks for clicking the links last time, geeks. We're going to see about making this a more regular feature, and we'll tweak as we go.
One thing I wanted to add just for transparency - as I understand it, the way it works if that once you click my affiliate link, anything you buy at amazon for the next 24 hours contributes a cut to me as an affiliate. I get a report of stuff that was bought, but none of it's attached to anyone's name or personal information.
So, basically, if you want to creep me out, click one of the affiliate links below, then buy something horrifying.
I'm also adding a rating system. I don't really like these, but I assume a lot of you are just looking for "what was your favorite book this month," so this should help. I want to stress that a 4/5 really does mean great:
1/5 = Blech
2/5 = Not recommended
3/5 = Not bad. Recommended if it's something you're curious about or a genre you like.
4/5 = Recommended. A great book.
5/5 = Phenomenal. Buy it, period, even if it doesn't sound interesting to you. I'm going to reserve this only for books that nearly brought me to tears or upended the way I think about the world. So, you won't see it too often - maybe once or twice in a good month!
June 4 - Why Does the World Exist (Holt)
-Kind of a meandering memoir of the author asking people the eponymous question. A somewhat light read, at least given the topic.
Verdict: 3/5
June 7 - The Quants (Patterson)
-Enjoyable history of the entry of mathematical modelers into finance, but I think I've read this story too many times to enjoy another book.
Verdict: 3/5
June 8 - On the Origin of Sports (Belsky, Fine)
-Fun, but it's really more of a reference/trivia book than anything. This book is a collection of the first written rules of a whole bunch of different sports, plus a bit of commentary.
Verdict: 3/5 as a reference book. 2/5 as a book to sit and read.
June 9 - Grunt (Roach)
-Mary Roach is always a delight. This one is about stuff related to soldiering, though it's a bit more wide-ranging than some of her other books.
Verdict: 4/5
June 10 - Diet Cults (Fitzgerald)
-I enjoyed this book a surprising amount - Fitzgerald does some mild debunking of a number of fashionable diets and also explains who complex nutrition can be. It's a sort of skeptics guide to nutrition, though it's (to my mind) fairly gentle in its handle of various non-empirical approaches to diet.
Verdict: 4/5
June 11 - Dreamland (Quinones)
-An excellent description of the rise of opiate use in the United States over the last several generations. My personal belief is that it all argues for a broad program of legalization, but I don't think that's Quinones' take. One depressing part of the book is how enterprising a lot of the drug traffickers are. You end up wishing they could use that work ethic and competence toward some more productive end.
Verdict: 4/5
June 17 - The Looming Tower (Wright)
-A great history of events leading up to September 11th. It's obviously the case, but I'm frequently amazed by just how much more rich and human the truth is, when compared to the nonsense you catch in daily newsmedia.
Verdict: 4/5
June 17 - Dr. Futurity (Dick)
-An early Dick book, though with hints of what's to come. It's a sort of mystery plus time travel story that threatens to implode from its own complexity, but manages to pull out at the last second. Not exactly deep stuff - Dick's early work is quite pulpy - but enjoyable.
Verdict: 3/5
June 17 - Lean In (Sheryl Sandberg)
-Enjoyable, but honestly a bit disappointing. I was hoping this'd be a bit more data driven, but it's more of a personal memoir. That is, of course, just fine, but there are better books on similar topics.
Verdict: 3/5
June 17 - Ava's Man (Bragg)
-I am just in love with Bragg. Here he gives a biography of his grandfather, a moonshine-making mountaineer, really from a different era. Great prose and great stories.
Verdict: 5/5
June 18 - Ruth (Gaskill)
-Gaskill is starting to become a guilty pleasure. It's Dickensish, though not quite as clever.
Verdict: 4/5
June 19 - All Creatures Great and Small (Herriot)
-A great little collection of semi-fictionalized stories about being a veterinarian to a small farming community in Yorkshire. I really enjoyed these. The two books to follow are more of the same, and each is slightly last good than the one that came before. Still, wonderful charming little stories.
Verdict: 5/5
June 19 - All Things Bright and Beautiful (Herriot)
June 21 - All Things Wise and Wonderful (Herriot)
Verdict: 4/5

June 23 - The Cosmic Puppets (Dick)
-Man, you get the feeling Dick banged this one out over a weekend. It's like an okay episode of the Twilight Zone.
Verdict: 2/5
June 27 - Sapiens (Harari)
-A fun, somewhat light book on *all of human history*. Too simplified to be certainly true, but it's a joyful little romp with a lot of clever ideas.
Verdict: 3/5
June 28 - Solar Lottery (Dick)
-You can see the hints of the writer to come - the complex world-building and the enormous number of weird ideas and the avoidance of the usual early sci fi tropes. But… this book wasn't so great. There are all these wonderful concepts, but it's like he hadn't quite got the hang of a narrative yet.
Verdict: 2/5
June 29 - North Korea Undercover (Sweeney)
-Sweeney writes sort of like a gonzo journalist, but it's enjoyable in this context. This book is a memoir of a trip to North Korea and all the strange sights. It also contains a number of asides telling weird DPRK history and tales of defectors.
Verdict: 4/5